SCRIPTURE UNION DAILY GUIDE DEVOTIONAL FOR JANUARY 11, 2023 (MAN IS BORN TO TROUBLE AS SURELY AS SPARKS FLY UPWARDS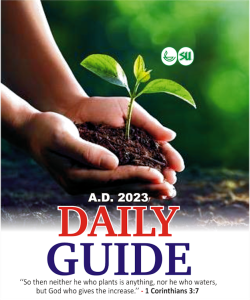 TOPIC: "MAN IS BORN TO TROUBLE AS SURELY AS SPARKS FLY UPWARDS"
OPENING PRAYER: Dear Lord, I pray that you sanctify my spirit, soul and body as I read your word in Jesus name.
SCRIPTURE: MARK 4: 35-41
QUESTIONS FOR REFLECTION
• Q 1: What does the passage teach about God the Father, or God the Son or God the Holy Spirit?
• Q 2: Is there any example for me to follow or not to follow?
 MESSAGE
The disciples had complete faith in Jesus. They were not only going at His command but with Him actually in the boat with them.
Yet, they ran into a huge and scary storm! Whoever we are and whatever our station in life, we will always encounter storms of one type or another.
Sometimes these storms are caused by our own faults, but often they are purely caused by the enemy of our soul.
Regarding the storms of life, we have two things going for us as children of God.
First is that we can rest assured, on the basis of the word of God, that the storm is not big enough to drown us (1 Corinthians 10:13). Second, is that there is a sure and certain formula for dealing with them, and it is the same whatever may be the cause of the problem.
The answer is first to ensure our ready access to Jesus Christ with no unconfessed sin in our life and then to take the matter to Him, if necessary, with the support of other praying friends.
Unlike the experience of the disciples, we shall never find that He is asleep (Psalm 121:4)!
CLOSING PRAYER
Encourage yourself and worship the Lord now with the song, "What a Friend we have in Jesus…"
Offer a prayer of faith in line with 1 Peter 5:6 ‐ 7
ONE YEAR BIBLE READING PLAN
Genesis 16, 17, Romans 4.
NATIONAL PRAYER BULLETIN – Wed, 11-Jan-2023
PRAYER FOCUS
JESUS KNOWS ALL ABOUT OUR STRUGGLES
For this purpose also I labour, striving according to His power, which mightily works within me. – Colossians 1:29
THANK GOD FOR:
► His encouragement and the provision of spiritual armors to help us overcome.
► The comfort of our God which He makes available in afflictions.
PRAY FOR:
► Grace to persevere even as we remain faithful in trials.
► Brethren suffering persecutions, and trials of their faith.
► Strength from above as we consider the glory awaiting all Christians who overcome.
PRAY AGAINST:
► The plan of the devil to make us become distressed due to the happenings around us.
► The devil making us look around, instead of looking up and telling everybody who cares to listen, except Jesus who cares for us.