THE ENCOUNTER THAT CHANGED BISHOP DAVID OYEDEPO'S MINISTRY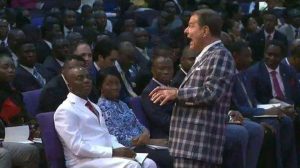 I met this servant of God, Pastor Kenneth Copeland in the year 1977. Not physically..
I encountered him through his books, my heart went after him.
I spoke about this almost everywhere I had the opportunity.
I just saw that it's a divine connection from heaven.
When eventually we met, I didn't feel we have never met before. Everything in me just connect.
He has been very awesome. This is one of those great vessels of God that has given meaning to the charismatic movement by revelation.
Also, not just about revelations but by books.
Nothing happens by chance. It's light that defines happiness in our lives….
We were up in a meeting and we were ushered into a room.
The host of the meeting said this was where Copland stayed when he came last…
We got on the bed and I said"Jesus, whatever is in Copland that Is not in me I want it tonight".
That a dead body was carried to the sepulchre of Elisha and he revived and stood on his feet.
He is not dead, so whatever is missing in me and is in him, I want it tonight.
In the night I slept and I saw an amputated arm rotten with worms coming out.
And out of compassion I said"in the name of Jesus " and I saw a brand new hand coming out.
That night, the Lord said to me" I have brought you to the creative realm of your ministry today.
Since that time, diverse encounters have been happening.
God will give you an encounter
Your word will come to you in the name of Jesus!!!
God will send you men who will change the phase of your life.
Your life is changing for better from this moment In the name of Jesus!!!.
#ShekinahGloryTV
#TruthandRealityNetwork
#Naijasermons