CHANNELS OF FULFILLMENT DAILY DEVOTIONAL FOR SEPTEMBER 10, 2022 (TRUST GOD)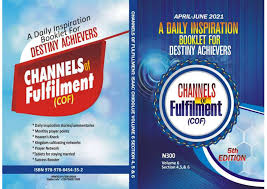 TOPIC: TRUST GOD
Text: (Psalm 18 vs. 20 – 30)
MESSAGE
Trusting God is not easy. Trusting God most times is a risk but is a risk I will recommend for everyone because it is worth taking. Using Noah's boat as example: Everything I need to know I learnt from Noah's ark. Don't miss the boat, remember that we all are in the same boat plan ahead.
It wasn't raining when Noah built the ark, Stay fit when you are 60 years, you may have an opportunity to do something really big. Don't listen to critics, just get on with the Job that needs to be done. Build your future on a higher ground. For safety sake travel in pairs. Speed isn't always an advantage. The snail were on board with cheetah. When you are stress, float for a while.
Remember the ark was built by an armature; the titanic was built by professionals. No matter the storm, when you are with God, there is always a rainbow waiting. Trust God on your rising, he converts your mistakes to great takes, and He changes your story to glory. God has the capacity to turn things around and make beauty out of nothing.
God's help is found where it is needed most. The question is in what aspect of your life are you trusting Him. This speaks why Rick warren was of the opinion, "The more you believe and trust God, the more limitless your possibilities become for your family, your career and life".
I think you need to digest today's scripture where it says, "As for God, his way is perfect: the word of the Lord is tried; he is a buckler to all those that trust in him". Oh my God, our God's way is perfect, His word is already proven. He is a buckler (defender) to all those that trusts Him. Jehovah is a buckler to me, what a God we serve, He is great and mighty, Amen!
Prayer Points
Oh God I thank you for your word to me.
Jesus, give me the grace to trust you.
Father, help me with the grace to believe you even when it is difficult.
Father, for trusting you with my life I shall not disappointed, Amen!
Father, give me the faith that trusts you in all circumstances.
Lord, help me to believe in myself and no talk except when necessary.