ANGLICAN DAILY FOUNTAIN DAILY DEVOTIONAL FOR SEPTEMBER 30, 2022.  (DEATH AND RESURRECTION OF JESUS FORETOLD)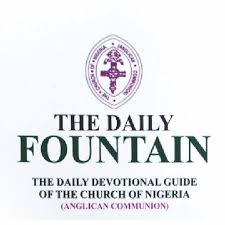 TOPIC: DEATH AND RESURRECTION OF JESUS FORETOLD 
Read: Mark 9:30-32(NKJV)
30. Then they departed from there and passed through Galilee, and He did not want anyone to know [it.]
31. For He taught His disciples and said to them, "The Son of Man is being betrayed into the hands of men, and they will kill Him. And after He is killed, He will rise the third day."
32. But they did not understand this saying, and were afraid to ask Him.
STUDY
Jesus Christ Himself made it clear to His disciples that; "The son of man will be delivered into the hands of men, and they will kill Him; and when He is killed, after three days, He will rise" (Mark 9:31). However, not only did they not understand what He told them, the disciples were afraid to ask Him for explanation. The death and resurrection of Jesus is a strong bedrock of our faith. Going to church without this knowledge and its appropriation, destroys the soul. Jesus was despised, rejected by men, afflicted, wounded for our transgressions, bruised for our iniquities and made an offering for sins.
He was crucified on the cross of Calvary, died and was buried and on the third day, He resurrected. Anyone who refuses this great sacrifice will suffer the horrors of the second death. Through death, Jesus destroyed the devil who has the power of death, thereby delivering those who through the fear of death, were subject to lifelong bondage. He is the life and resurrection; make Him your Lord and Saviour now for everlasting peace and total freedom. Because He resurrected, all who died in Christ will also resurrect.
PRAYER: Help our unbelief O Lord, please help me to die to sins and be established in your righteousness in Jesus' name. Amen.
The Anglican Communion is the fourth-largest Christian denomination. Founded in 1867 in London, England, the communion currently has 85 million members within the Church of England and other national and regional churches in full communion.