SCRIPTURE UNION DAILY GUIDE DEVOTIONAL FOR JANUARY 9, 2023 (SOWING IN THE SUNSHINE, SOWING IN THE SHADOWS, FEARING NEITHER CLOUDS NOR WINTER CHILLING BREEZE)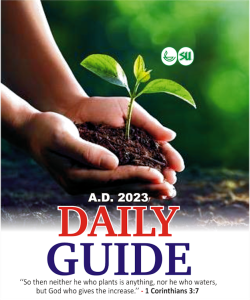 OPENING PRAYER: Dear Lord, I pray that you sanctify my spirit, soul and body as I read your word in Jesus name.
SCRIPTURE: MARK 4: 1-20
QUESTION FOR REFLECTION
• Q 2: Is there any example for me to follow or not to follow?
 MESSAGE
This parable is different from how farmers sow seeds in our culture.
They do not just scatter seeds everywhere but plant the seeds in rows of cultivated fields.
However, the same truths apply. Some still end up by the wayside and some on rocky ground; some are picked by birds despite the scarecrows, and some are choked by weeds.
Thankfully, some fall on fertile soil to give the harvests in the end!
The Master explains the meaning of this agricultural parable in vs.13-20.
It has to do with how the human heart accepts the precious seed of the word of God.
Consider first yourself and then those to whom you prayerfully present the Gospel.
Concerning yourself, what steps do you take to ensure that your heart is well prepared to receive the word of God day by day in your Quiet Time with God, and each time you go to worship in the fellowship of His people in the House of God?
And, concerning those to whom you preach, make a list of things you can do to help prepare the soil of their hearts, to fight off the crows, to weed out the thorns, and to nurture the plant to maturity.
"… By and by the harvest, and the labour ended, we shall come rejoicing, bringing in the sheaves …"
Offer a prayer of faith in line with Philippians 4:19 ‐ 20
ONE YEAR BIBLE READING PLAN
Genesis 14, Hebrew 7.
NATIONAL PRAYER BULLETIN – Mon, 09-Jan-2023
PRAYER FOCUS
DELIBERATE EVANGELISM
Go into the world and preach the gospel to all creation.- Mark 16:15
THANK GOD FOR:
► SU staff and their dedication to the preaching of God's word.
► The General Director of SU Nigeria, Brother Phillips Odelana and all the HOD's, RC's, and Missionaries working for SU Nigeria.
PRAY FOR:
► Increased reverence for God, His calling upon their lives as they work in SU Nigeria.
► Grace to continue to serve God as ambassadors of Christ in Holiness and Righteousness knowing they will give account of their labour.
► Spiritual strength to help them endure hardships as they discharge their duties and increase of the fear of God in them.
► The presence and help of God in their lives and in their family as they remain faithful to God.
PRAY AGAINST:
► Deception of the devil and distractions that will disqualify them and their labour of sacrifice.
► Leaving the essentials, while pursuing ephemerals, thereby making the gospel of Christ to be of no effect in their hands.