SCRIPTURE UNION DAILY GUIDE DEVOTIONAL FOR JANUARY 26, 2023 (KEEP HOLDING ON TO GOD)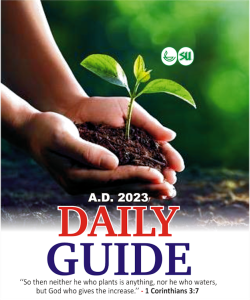 TOPIC: KEEP HOLDING ON TO GOD
Dear Lord, expose me to your truth as I read your word in Jesus name.
SCRIPTURE: EXODUS 9: 1-12
QUESTION FOR REFLECTION
• Q 5: Is there any warning for me to heed?
  MESSAGE
It seemed like Pharaoh was beginning to soften on account of the flies. He was willing to make a small concession, and he even asked for prayers (8:25, 28). However, once the problem ceased, so did his responsiveness. Another message from God followed (vs.2-3), and another plague. The death of all of Egypt's domestic animals (v.6) was not enough to make a difference, even though Pharaoh saw the need to confirm that the Hebrews did not experience the same disaster (v.7). Do we not behave like that ourselves? In times of serious problems, we draw close to God, but once the problem recedes, so does our devotion to Him! We are like children who pester their parents for something they need but forget all about them until the next need arises.
The next need arose very quickly for Pharaoh with the plague of boils. This time, even his eminent doctors were in bed as patients (v.11). We often encounter little Pharaohs who exercise tyrannical authority over the children of God in our days. Do you not wish that God would demonstrate His power against them in this way? Just be patient. The day is coming when He will!
PRACTICE/WORD APPLICATION
So what? Praise God today on the basis of Psalm 37:1-5.
• Any new insight or reinforcement of what you already know?
Offer a prayer of faith in line with Psalms 141:2
One Year Bible Reading Plan
Genesis 46, 47, Psalms 21
NATIONAL PRAYER BULLETIN – Thu, 26-Jan-2023
PRAYER FOCUS
PERSONAL RESOLVE BY OUR SU ELDERS
My flesh and my heart may fail, but God is the strength of my heart and my portion forever. – Psalm 73:26
THANK GOD FOR:
► Our Elders in SU who have continued in the race despite all odds.
► The experiences they have acquired and are willing to share with us the younger generation.
PRAY FOR:
► Increased grace to continue in prayer, fellowship and in the work of God till the last whistle is blown by their Maker.
► For strength of heart and that they continue in what they have believed to the end.
► Brethren to keep praying for them and visiting them to encourage them to continue till the end.
PRAY AGAINST:
► Being overwhelmed by personal sufferings or external circumstances beyond their control.
► Becoming disheartened by fears, insecurity, sickness, failing health and even threat of death, thereby losing control of their minds.
National Day of Prayer And Fasting
► Tomorrow is the National Day of Praying and Fasting. Pray and Plan to Participate.
Scripture Union Daily Guide 26 January 2023. Scripture Union is an international, interdenominational, evangelical Christian organization. It was founded in 1867, and works in partnership with individuals and churches across the world. The organization's stated aim is to use the Bible to inspire children, young people and adults to know God.