SCRIPTURE UNION DAILY DEVOTIONAL GUIDE FOR FEBUAURY 2, 2023 (MISUSE OF POWER AND AUTHORITY)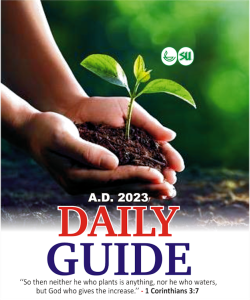 TOPIC: MISUSE OF POWER AND AUTHORITY
OPENING PRAYER: My dear heavenly Father, as I study your word, let it be a lamp unto my feet and a light unto my path.
SCRIPTURE FOR TODAY: Mark 6:14-29
QUESTIONS FOR REFLECTION
• Q 2: Is there any example for me to follow or not to follow?
• Q 5: Is there any warning for me to heed?
  MESSAGE
In contrast to Jesus' use of power and authority to heal the sick, raise the dead and set the captives free, we read today about how people holding political leadership offices can misuse the power bestowed on them. Power itself corrupts and absolute power corrupts absolutely. What can we learn from John's influence in the society in which he lived?
Read vs.19-20 and observe that both John and Herod had some common time of discussion, maybe a time of evangelism and follow-up activities.
They seemed to have both agreed on many things except on Herod's unlawful marriage.
Herodias' knowledge of John's position on this issue engendered bitterness in her against John. Immorality in high places often weaken the people in power to do the right things.
Many have perverted justice because of the influence of their wives, like Ahab. What type of a wife or husband are you?
Read vs.21-29 again. It looked like a drama script being played out here. Herodias used her daughter to execute her evil plan. Christians have the responsibility of teaching the young people to say 'NO' to everything that is evil.
• Any new insight or reinforcement of what you already know?
CLOSING PRAYER
Read v.29 again and pray for the body of Christ as she heals from the wounds of their members being killed by brutal political and religious insurgents.
Offer a prayer of faith in line with Genesis 1:28
ONE YEAR BIBLE READING PLAN
Exodus 9,10, Psalms 29.
NATIONAL PRAYER BULLETIN – Thu, 02-Feb-2023
PRAYER FOCUS
ALL AT THE ALTAR
Through Him then, let us continually offer up a sacrifice of praise to God, that is, the fruit of our lips that acknowledge His name.
– Hebrews 13:15
THANK GOD FOR:
► Making us Holy and acceptable sacrifice, so that we can present our bodies, hearts and entire life to Him.
► The name of the Lord that is acclaimed, preached, taught and reverenced in all we do in SU.
PRAY FOR:
► Increase in the purity of heart and purpose in all we do for our God this month in SU.
► Grace to sacrifice our time, money, and our entire life as we work among children, youths and families in SU.
► The love of God to continue to keep and be the keyword in all we do in SU.
► Pray for National Chairman Prof. Iwe Maduebisi and Exco as they travel to Benin for the National Exco Meeting tomorrow.
PRAY AGAINST:
► Desecration and defilements that we see happening in this end time even in the Christendom.
► Failing to let the light of God shine through us to the fellowship this month.