CHANNELS OF FULFILMENT DAILY DEVOTIONALS FOR SEPTEMBER 13, 2022 (TAKE IT WITH FAITH)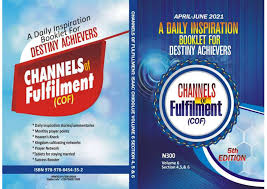 TOPIC: TAKE IT WITH FAITH
Text: (Matthew 6 vs. 27 – 34)
MESSAGE
Tomorrow is empty to anyone but we can honourably plant seeds there anytime we feel like. To a child of God who is scared of tomorrow God is asking why are you scared of tomorrow? Why are you worried about it? Why are you almost in tears over the tomorrow the Lord has taken care of? Literally you need wisdom to stand out in the days of battle.
Life is majorly about moving front, yesterday is no longer important except for the reference purpose and condition, stay up and stay high. God has everything it takes to make you shine and excel. In order to attain the impossible, one must attempt the impossible. Always look at what you have left and what is left to come.
Many times we do question the possibility of greatness, yes we can question for it if we didn't take up the possible risks and move in different direction of life and goal. Every tomorrow has two handles , we can take hold of it by the handle of anxiety or by the handle of faith (Henry word Beecher).
God responds to those who act by faith and faith is not valid without risks. There are risks in life that are worth taking. God might have made promises to you but it is by your faith that you become outstanding and glorious. Considering verse 27 of today's scripture it says, "Which of you by taking thought can add one cubit unto his stature?"
Many persons are living by worry when they can live by faith. Faith is the only thing the scripture recommends as the way forward to a God given system of blessed life, for the Just shall live by His faith. You don't know what tomorrow is but you are certain it will bring nothing to you but honour and progress. Take the future by faith. It was Bishop Oyedepo  I heard when He said, "I am not afraid of tomorrow because we are not here by chance". God bless you!
Prayer Points:
Oh God I thank you for your word to me.
Oh God I take up the place of honour and grace by faith.
I shall not be small or limited by any form in Jesus name, Amen!
Jesus give me the grace to triumph above limitation.