CHANNELS OF FULFILMENT DAILY DEVOTIONAL FOR SEPTEMBER 5, 2022 (ARE YOU ASHAME?)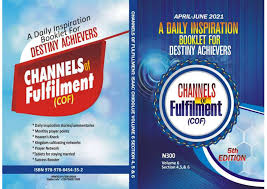 TOPIC: ARE YOU ASHAME
Text: (Romans 1 vs. 10 – 16)
"For I am not ashamed of the gospel of Christ for it is the power of God unto salvation to everyone that believeth; to the Jew first, and also to the Greek". The gospel is the sole reason why we do exist, it takes only the gospel to move up to the height of blessings and open doors.
We are the generation that is called to spread the gospel again and again. In the midst of many trends, it is paramount if we can recognize the power of the gospel and walk accordingly. The children of God are the gospel people.
We are wired to tell the world about our Lord Jesus Christ and His faithfulness to the ends of the world. Let the gospel trend everywhere with you. Tell people about Jesus and His faithfulness. Yes, He is coming and He would come quickly and gloriously. There is nothing you can compare to God. Anyone you deny the good news of the cross is denied a lot already. You can utilize anything anywhere to preach the gospel and to stand by its effect and measure. In addition to not being ashamed, ask God for the grace to be admired. Yes, people admire what they cherish.
May you appear as one who is cherished not one who is perished. The gospel is a good news, then appear as the bearer of good news. Many times we do talk about what Jesus did and how He did it but we do not talk about how he appeared. At every point of your appearance ask yourself do I appear like Jesus, not just in conduct and morality alone but also in majesty and honour. If you don't appear like Him yet, then it tells that there is more to be done; there is more to be committed on, it is not about preaching but appear as the great preacher. Always remember that what God has given you is what you will use to shine, therefore go ahead and shine.
PRAYER POINT
Oh God I thank you for your word to me.
Jesus, give me the grace to love you and live by you.
Father, give me the grace to do your will now and always.
Jesus prepare me as the kingdom preacher.