CHANNELS OF FULFILMENT DAILY DEVOTIONAL FOR  SEPTEMBER 15, 2022   (DILIGENCE WITH GOD)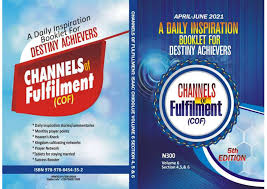 TOPIC: DILIGENCE WITH GOD
Text: (Haggai 1 vs. 1 – 5)
MESSAGE
In most cases God considers your commitment and your diligence in His services. Many of us are busy but not busy with God's assignment.
Steren Furtick said, "The enemy has two strategies: distraction and discouragement: he will distract you so that you crash or he will discourage you so that you quit". Don't give up God is with you.
Giving up is the language of the weak. Staying strong is the call-up to God's strategy and grace. In this kingdom your commitment to God softens your path and make things easier. Ask yourself, what am I doing for the kingdom advancement and enrichment. To be where God sent you, you must have the mind that sponsors kingdom advancement.
This is why the Bible says in Matthew 6 vs. 33 saying, "But seek ye first the kingdom of God and His righteousness, and all these things shall be added to you". When I seek the kingdom of God and his righteousness honour and glory shall be added to me.
One of the most essential means of living an exclusive life is to live that life that seeks the kingdom.
In God's kingdom there is no accidental pursuit but the grace of God that passes all understanding is made sufficient upon those who are highly kingdom minded. Individuals with an advance linkage with God's people who are not taking God for granted by any means or style. You need to embrace God and accommodate his nature and capacity.
I recommend you strive not to be found among those people today's scripture spoke about in verse 2 saying, "Thus speaketh the Lord of hosts saying, this people say, the time is not come. The time the Lord's house shall be built". May God not find you among the selfish ones who could take his work for granted.
Prayer Points:
Oh God I thank you for your word to me.
Father I thank you for the grace of diligence.
Jesus, give me the ability to shine and strive in success.
Oh God, give me the ability to stand your place of honour and grace.
Lord Jesus help me with diligence toward you.
Father, I receive the grace to stay committed to your nature and grace.
Father, I shall not for any reason be denied of the grace and hand of God.