ANGLICAN DAILY FOUNTAIN DEVOTIONAL FOR JANUARY 26,  2023 (PURITY OF CONSCIENCE)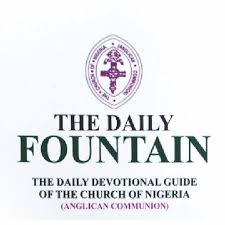 TOPIC : "PURITY OF CONSCIENCE"
TEXT: 2 Timothy 1:1-8(NKJV)
1. Paul, an apostle of Jesus Christ by the will of God, according to the promise of life which is in Christ Jesus,
2. To Timothy, a beloved son: Grace, mercy, [and] peace from God the Father and Christ Jesus our Lord.
3. I thank God, whom I serve with a pure conscience, as [my] forefathers [did,] as without ceasing I remember you in my prayers night and day,
4. greatly desiring to see you, being mindful of your tears, that I may be filled with joy,
5. when I call to remembrance the genuine faith that is in you, which dwelt first in your grandmother Lois and your mother Eunice, and I am persuaded is in you also.
6. Therefore I remind you to stir up the gift of God which is in you through the laying on of my hands.
7. For God has not given us a spirit of fear, but of power and of love and of a sound mind.
8. Therefore do not be ashamed of the testimony of our Lord, nor of me His prisoner, but share with me in the sufferings for the gospel according to the power of God
MESSAGE
Paul served God with a pure conscience and he prayed regularly for Timothy. The genuine faith that was in Timothy's grandmother Lois and mother Eunice was also in Timothy. Paul encouraged Timothy to stir up God's gift in his life because God did not give us a spirit of fear, but of power, love and sound mind. Timothy should not be ashamed of testifying of Jesus or ofPaul but should share with Paul his sufferings for the gospel.
In Christianity, purity of conscience matters because if we regard iniquity in our hearts, God will not hear us (Psalm 66:18). Some people worship God without a pure conscience, but with ulterior motive; because of what they secretly expect to gain from the Church.
However, God accepts worship from a pure conscience. Do you want to see Jesus after all 'your years of worship here on earth? Then purge your heart of sin, lust, enmity, etc for Matthew 5:9 tells us that blessed are the pure in heart; for they shall see God.
You can purify your heart and conscience by making a conscious effort to think on things that are honest, true, just, pure, lovely, of good report and virtuous(Phil.4:8).
PRAYER: Dear Lord, sanctify my heart and purify my conscience in Jesus' name, Amen.
The Anglican Communion is the fourth-largest Christian denomination. Founded in 1867 in London, England, the communion currently has 85 million members within the Church of England and other national and regional churches in full communion.