CHANNELS OF FULFILMENT DAILY DEVOTIONAL FOR SEPTEMBER 6, 2022 (REUNITE AGAIN)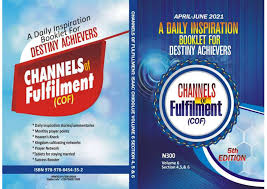 TOPIC: REUNITE AGAIN
TEXT:  (2 Peter 1 vs. 1 – 5)
MESSAGE
I bless the Lord for you and your soul as we engage in the personality and details of God once again. It should be clear to all of us that the best of God is seen when men submit to him in accordance to His rule. No one is willing to forgive and forget like God. In as much as you should be careful to relate with God accordingly, you should also be careful in relating with people.
Personally in my growth I have had friends that are not truly friends, I have been with people who are not truly worthy, how would you know that they are not before relating with them, there is no way you would know except after you have related with them. Life generally is a risk; the risk of people and the risk of things. The very risk of life and living it successfully.  We have had some persons' victim of death due to the fact that they failed to realise the need of their lives in this season.
They mismanaged their lives and were unable to arise to what destiny holds for them because life took them unaware and in the risk of it all. Relationships are the bedrock of our survival, we relate to excel and to conquer not to be held down or limited.
We relate to know and to win the game of the throne. Be peaceful first with the people of your own house and family then extend the hand to reach other persons as well. We can create grace and glory on every side if we stay in harmony with everyone, we might not trust people but we must stay committed to the father of light and build on our legacy of grace and glory.
Reunite yourself today with your maker. Today's passage says, "Grace and peace be multiplied unto you through the knowledge of God and of Jesus our Lord". Grace and peace be multiplied to you. Peace is found in harmonious living.
Prayer Points
Oh God, I thank you for your word to me.
Father, I receive the grace to be yours now and always.
Father, give me the grace to stay true with you.
Lord draw me closer to yourself always, Amen
Father, I receive the ability to be right with my choices of life.