CHANNELS OF FULFILMENT DAILY DEVOTIONAL FOR SEPTEMBER 4, 2022 (LIVING IN VICTORY)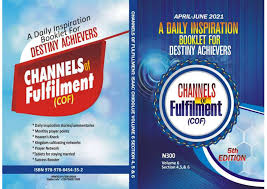 TOPIC: LIVING IN VICTORY
Text: (Joshua 13 vs. 1)
MESSAGE
To live in victory is to choose victory over and over again. The price starts from the mind. Let the Lord govern your mind because in his governance is the realisation of all possibilities. God has no limit in Him, every limit we have seen is in ourselves. God is not obscured therefore every obscurity is with us. One of the greatest prayers to sustain, is to ask God for the grace to standout in the place of victory putting on the amore required for honour.
Great men are not the men without obstacles but the man who believe that every obstacle is a step forward to greatness and abundance. Someone said something that caught my attention and it is, "A person who doubts himself is like a man who would enlist in the ranks of his enemies and bear arms against himself. He makes his failures certain by himself being the first person to be convinced of it."
I don't know what your hopes are and how much you believe in what you hopped for but I am certain that God is always able to make anything come through, at any time if we keep believing and trusting Him. Someone else said, "Life is only what we chose to make it, it is only what we chose to make it." In today's scripture the word of God says, "Now Joshua was old and stricken in years; and the Lord said unto him, thou art old and stricken in years and there remaineth yet very much land to be possessed".
I can hear the voice of God speaking to the fellow who wants to settle saying there are many more works to do, yes there is much to be conquered, there is still much miles to go. Old age is the cause but it is nothing with God. This year by the mantle of God you shall cover what is normal to be covered in 10 years in Jesus name, Amen!
Prayer Points
Oh God I thank you for your word to me.
Jesus, I receive the grace to be yours now and always.
Father, help me to stand in the place of honour and miracles.
Jehovah give me the grace to live in victory.
The goodness of God shall bring me to victory all times.
6.  I shall not be limited or stopped from reaching grace and glory.