CHANNELS OF FULFILMENT DAILY DEVOTIONAL FOR  SEPTEMBER 22,  2022 (IF IT WAS NOT THE LORD)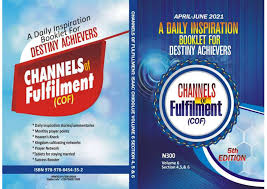 TOPIC: IF IT WAS NOT THE LORD 
Text: (Psalm 124 vs. 1 – 8)
MESSAGE
At this point I don't know what exactly you could feel you have done for yourself. Every area of man's life is speaking of God's faithfulness. You may not be the most trusted in your field.
I am also aware that God's mercy has carried you to where you are now. You may not be in the most favourite places but if not for the Lord's mercy we might have long been consumed.
If it was not the Lord, you might not have had what you have now. Look inwardly, deep within yourself and see what the Lord has done. In Psalm 124 vs. 1 the word of the Lord says, "If it had not been the Lord who was on our side, when men rose up against us".
The truth is that most of us may not recount the mercy of God and His faithfulness. In spite of those disappointed dreams or plan, can you recall what the Lord has done, can you remember His faithfulness and grace. Can you see the full occurrence of His goodness and love. Faithful is our God who was, who is and who is to come. He can't be compared among people.
I want to remind someone that God has always been part of your growth on every side. He is so much interested in your lifting and he wants you to rise by all means and in all places. You can't walk with God without acknowledging His faithfulness. Irrespective of what is remaining, God has done much for us, among things that should be done.
No matter the expectation that is awaiting, the faithfulness of God does not fail. Tomorrow shall appear with the manifestation of your testimony, Amen! See verse 8 of today's scripture when it says, "Then the proud water had gone over our soul".
If it was not for the Lord we would have long been forgotten. Yesterday could be your day of exploit but the Lord retained you on the track of establishing a brighter tomorrow with you, Amen!
Prayer Points:
Oh God I thank you for your word to me.
Jesus, give me the grace to love and trust you at all times.
Oh God help me to always, remember how you have helped me.
Jesus, help me to do your word and your will always.