CHANNELS OF FULFILMENT DAILY DEVOTIONAL FOR SEPTEMBER 19, 2022 (THE YOKE OF DEPRESSION)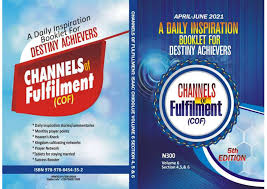 TOPIC: THE YOKE OF DEPRESSION 
Text: (Esther 2 vs. 20 – 22)
MESSAGE
To the depressed soul, the future will surely be bright if you can only see hope coming again. Depression is a yoke that aims at killing you, taking you down the ground but if you let God's word dwell in you, you can be saved from it now and again.
Feed your mind with the authentic word of God and trust in God not in yourself. Depression makes you not to go forward, it hands you over to your limitations.
Depression is the mother of frustration. Ensure that for no reason you don't stay there. Living in depression keeps you stagnated in life. People are not you, always bear in mind that they are there to bless you and help you, so you must braze up so that you don't stay depressed with them.
Do you know what? Depression sometimes is a chance. You chose to stay depressed before you become depressed.  See verse 21 of today's scripture where it says, "In those days while modecai sat in the king's gate, two of the king's chamberlains, Bigthan and Terash, of those which kept the door, were wroth, and sought to lay hands on king Ahasuerus".
Modecai sat in the King's gate as what? A gate man, no! A messenger, no! He could be standing for any other reason that is not royalty. At that point in time, they are considered as the under-privileged, then in that situation he refused depression and made the best use of the moment, that was how he was able to notice  the plot against the King and that was the very reason why he climbed up to greater height.
That action he took was what elevated him in Esther 6. Can I say this to you, the time depression comes most is also the time for a change of life. Depression is a tool to stop you from doing the next most important thing that should be done. By all means you must be free from depression and live a life that befits God.
Prayer Points:
Oh God I thank you for your word to me.
Faithful God, Jehovah let you power be made manifest on me.
Oh God I shall not by any means live a depressed life.
I receive the grace to walk in the wisdom of God and His grace.