CHANNELS OF FULFILLMENT DAILY DEVOTIONAL FOR SEPTEMBER 23, 2022 (THE FULLNESS OF TIME)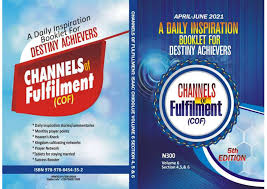 TOPIC: THE FULLNESS OF TIME  
Text: (Galatians 4 vs. 1 – 6)
MESSAGE
I want to appreciate one who stands by God today in observance of God's word and his grace. I want to remind you this day by the infinite grace and mercy of God; your fullness of time has come. There are people who are slowed down by a particular stage of life or the other, it seem as if they are forgotten or ignored from the territory of grace and God's manifestation. Hence one can ask, how can I achieve this or the other. Many of us the Lord has helped, we can recall that there were times when a particular stage of life was looking almost like we ll never pass it.
A point in our lives was looking like it was the end of the road but with time and hope God has really helped us. There is a fullness of time for every season. There is an end of road to every crisis. One can apparently decide to run in grace and attain the height of progress. To some they need to see an end of suffering, barrenness, broken home, and relationship crisis.
These are the end many individuals need to see but you mount up for grace until change comes. Don't just hope for a better tomorrow, let the tomorrow that will be better arrive today. Some individual's hope today can be linked to frustration in a situation where hope is without actions that yields results, we can say that such hopes has amounted to frustration.
To every season that is dry with continuous effort of progress and change inspire by unfailing vision and enthusiasm God always shows up on time. Don't stand on your toes like one who has lost hope. Stand with God to see the end of calamity. It shall surely be well.
Verse 4 of today's scripture says, "But when the fullness of time was come, God sent forth his son, made of a woman, made under the law," But when the fullness of time was come. For someone today you are stepping into your season of wonders in Jesus name, Amen!
PRAYER POINTS
Oh God I thank you for your word to me.
Lord Jesus, I shall not by any means small or limited.
Father, I shall not by any means miss my time.
I shall not miss my privileges and opportunities.