CHANNELS OF FULFILMENT DAILY DEVOTIONAL FOR SEPTEMBER 11, 2022 (STRUGLE AND LIFE)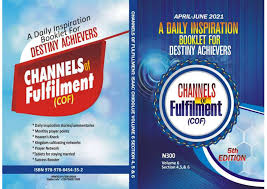 TOPIC: STRUGLE AND LIFE
Text: (Matthew 7 vs. 1 – 14)
MESSAGE
Many years ago a wealthy man went duck hunting with a hired hand named Sam. They took a horse and carriage, and along the way a rim came off one of the wheels. As Sam hammered it back on, he accidentally hut his finger. Instantly he let go with some bad words. He quickly fall to his knees, asking God's forgiveness. "Lord, it's difficult at times to live the Christian life". He prayed.
"Sam" said to the man, "I know you are a Christian, but tell me why you struggle so, I am an atheist, and I don't have problem like that". Sam didn't know what to say, just then two ducks flew overhead. The man raised his gun and two shots rang out. Leave the dead one and go after that wounded bird! He shouted.
Sam pointed at the duck that was fluttering desperately to escape and said, "I have got an answer for you now, Boss. You said my Christianity isn't any good because I have to struggle so well. I'm the wounded  duck and struggle to get away from the devil. But you boss, you are the dead duck.
This goes a long way in explaining the Christian Journey. Why you struggle not to be found in sin meanwhile it is a normal way of life to someone else.
This tells why lying is a crime to your belief and where you are called, yet you struggle to ensure that you are not captivated by the process.
A sinner lives freely even proud of his own sins. A wicked man stays wicked but for a child of God we are held back with the attitude of living for Christ. To walk with God you can't live carelessly.
This was why Jesus said on today's scripture saying, "Because strait is the gate and narrow is the way, which leadeth unto life, and few there be that find it". Narrow, yes the narrowness of this gate can't allow smoking, cheating, lying and backbiting to pass through it.
Prayer Points:
Oh God I thank you for your word to me.
Lord Jesus, I receive the grace to love and honour you all the days of my life.
I shall not by any reason be found small or limited in Jesus name, Amen!
Oh God, give me the grace to live for you and you alone, Amen!
I can't be careless in my walk in life, I will live with the mind set of Christ, always.