ANGLICAN DAILY FOUNTAIN DEVOTIONAL FOR JANUARY 6, 2023 (SELFLESS SERVICE)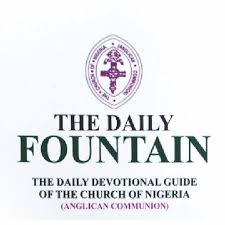 TOPIC: SELFLESS SERVICE
TEXT: Luke 3:15-22
15 And as the people were in expectation, and all men mused in their hearts of John, whether he were the Christ, or not;
16 John answered, saying unto them all, I indeed baptize you with water; but one mightier than I cometh, the latchet of whose shoes I am not worthy to unloose: he shall baptize you with the Holy Ghost and with fire:
17 Whose fan is in his hand, and he will throughly purge his floor, and will gather the wheat into his garner; but the chaff he will burn with fire unquenchable.
18 And many other things in his exhortation preached he unto the people.
19 But Herod the tetrarch, being reproved by him for Herodias his brother Philip's wife, and for all the evils which Herod had done,
20 Added yet this above all, that he shut up John in prison.
21 Now when all the people were baptized, it came to pass, that Jesus also being baptized, and praying, the heaven was opened,
22 And the Holy Ghost descended in a bodily shape like a dove upon him, and a voice came from heaven, which said, Thou art my beloved Son; in thee I am well pleased.
MESSAGE
In life, most of us place God first when we are in need of His help but place our interest first when God is in need of our service. The life and ministry of John is a great lesson to us today in our mode of service.
John had the influence and crowd to exalt himself but he decided to stick to his calling as a fore-runner to Jesus. He never allowed the view of the people to influence his position in service.
He exalted Jesus above himself and promoted the ministry of Jesus before the people. John was put in prison because he condemned evil.
The radical desire for self-projection, position and possession among some of us today has no place in Christian service.
Today, it is unfortunate that some of us hardly do anything for God's service without negotiating for our personal gain.
In our programmes and services, we tend to project ourselves to the world rather than projecting the glory of God.
The life of John should serve as a good example for us, he who calls himself a Christian should behave like a Christian. Pride, selfishness and self-projection are not part of Christian culture.
Prayer: Dear Father, grant me the enablement to be a worthy Ambassador of the Christian faith