ANGLICAN DAILY FOUNTAIN DAILY DEVOTIONAL FOR OCTOBER 1, 2022  (THE RESTORATION OF OUR NATION)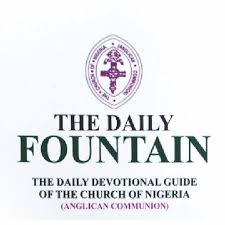 TOPIC: THE RESTORATION OF OUR NATION
Read: Psalm 126:1-6(NKJV)
1. A Song of Ascents. When the LORD brought back the captivity of Zion, We were like those who dream.
2. Then our mouth was filled with laughter, And our tongue with singing. Then they said among the nations, "The LORD has done great things for them."
3. The LORD has done great things for us, [And] we are glad.
4. Bring back our captivity, O LORD, As the streams in the South.
5. Those who sow in tears Shall reap in joy.
6. He who continually goes forth weeping, Bearing seed for sowing, Shall doubtless come again with rejoicing, Bringing his sheaves [with him.]
STUDY
Psalm 126 is one of the Psalms of Ascent (i.e, Ps. 120-135) that the Israelites usually sang whenever they were ascending Jerusalem for their occasional gatherings. The historical setting of this psalm is the restoration of Israel to their land after the Babylonia captivity due to their apostasy to idolatrous gods (2 Chron. 36:6-21). They were allowed to return because of their repentance after Seventy years in Captivity. They could not believe that God would work in the lives of pagan kings in order to allow them return to their land, thus, it looked like dreams in their sight (v.1). The Psalmist likened Israel's period of captivity to the time of sowing. After several years, the time of harvest came.
Thus, they received the reward of patience in labour, and returned to their land in joy (vv. 5-6). This message is appropriate, at a time like this in our nation. We are faced with several challenges on a daily basis and it seems we are in captivity while celebrating sixty-two years of independence. In any form of captivity we find ourselves (insecurity, famine, insurgency, kidnapping, inflation, etc.), the word of God to us today is to return to Him both individually and collectively as a nation. God who returned the fortunes of Zion will surely bring back harvest of plenty and thanksgiving to our land.
PRAYER: Restore us O Lord, and give our nation genuine freedom in Jesus' Name. Amen.
The Anglican Communion is the fourth-largest Christian denomination. Founded in 1867 in London, England, the communion currently has 85 million members within the Church of England and other national and regional churches in full communion.